Dr. Stephen Langer's Ultimate 15 Strain Probiotic with FOS
Dr. Stephen Langer's Ultimate 15 Strain Probiotic with FOS
Code:

SWA014

Description:

• The famous Dr. Stephen Langer's Ultimate 15 Strain Probiotic
• Delivers a daily dose of beneficial bacteria that help your body fight off viruses and harmful bacteria.
• Also contains prebiotic FOS, ConcenTrace® trace elements and more.

* Shipped From European Union by DHL Express

Our body is a natural environment for hundreds of microorganisms that are extremely potent and have unexpected capabilities. Some of them we call 'good' – the probiotics. They are crucial for maintaining a healthy environment in our body. They facilitate digestion, increase our resilience to viruses and bacteria, and strengthen the immune system. It is already established that probiotics intake is a must when receiving antibiotic treatment, but this is not the only case – our stressful life requires daily intake of such supplements as part of our healthy diet.
Dr. Stephen Langer's Ultimate 15 Strain Probiotic pushes back the limits compared to other probiotic supplements because it contains prebiotic FOS and ConcenTrace® trace elements. Prebiotics and trace elements are of paramount importance firstly due to the fact that our daily diets lack most of them, and secondly because they are absolutely essential for enzymatic processes required for good digestion.
Other ingredients: Microcrystalline cellulose (plant fibres), hypromellose (vegetable capsule, gellan gum), alfalfa, may contain one or both of the following: magnesium stearate, silica.
Directions for use: As a dietary supplement, take one vegetarian capsule per day with water or juice.
ConcenTrace® is a registered trademark of Trace Minerals Research, Inc.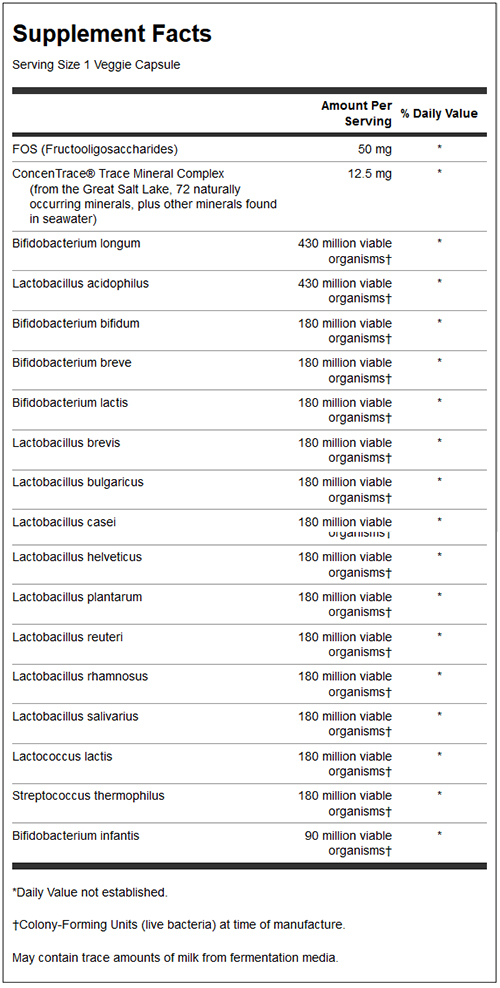 LEAVE A COMMENT:
Your email address will not be published. Required fields are marked *