Code:

SWC045

Description:

• Natural insomnia remedy featuring melatonin and specially selected herbs with relaxing and calming effects.
• Contains valerian root, chamomile flower powder, hops flower powder, skullcap herb powder, L-taurine and GABA.

* Shipped From European Union by DHL Express

Are you tired of tossing and tumbling in bed every night? When counting sheep doesn't deliver the goods, try Sleep Essentials – the magic sleep formula of Swanson. This leading-edge formula puts melatonin, taurine, and GABA together with the most efficacious relaxing and calming herbs found in nature, including passion flower, valerian, chamomile, skullcap and hops.
Other ingredients: rice flour, gelatine, magnesium stearate.
Directions for use: As a dietary supplement, take one capsule at bedtime with 8 ounces of water.
WARNING: May cause drowsiness! Do not drive a motor vehicle or operate heavy machinery after taking the supplement. Do not take this product if you are pregnant or breastfeeding, if you suffer from an autoimmune condition or depressive disorder or are under 16 years of age. If you are on prescription medications, especially sedatives or tranquillisers, consult your physician before use.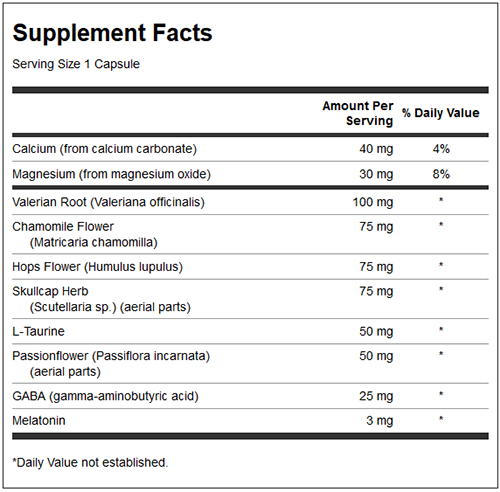 LEAVE A COMMENT:
Your email address will not be published. Required fields are marked *