Lee Swanson Talks About Swanson Health Products Europe

"Since 1969 Bringing Wellness To The World"
For over 45 years, our family-focused company has provided Americans with affordablenatural healthcare alternatives. Now I am proud to present our brand to the European marketplace through Swanson Health Products Europe (http://swansoneurope.com/). No matter which corner of the world you call home, I absolutely guarantee you the best products available at the best prices possible.

Lee Swanson
President, Swanson Health Products

Swanson has been awarded an "A" rating from the National Nutritional Foods Association Good Manufacturing Practices (GMP) certification program, a designation achieved by only the most diligent and upstanding nutritional supplement companies in the United States.

Swanson Health Produts Europe mission is to provides

· High-quality products manufactured under GMP-certified conditions
· The lowest possible prices
· Industry-leading customer service and support

"Nobody takes better care of you than Swanson Health Products Europe."
Founded in 1969, Swanson Health Products is the realization of one man's dream of bringing wellness to the world. Today, the company carries on that dream, reaching millions of health-conscious people in the United States and around the world.

Swanson Health Products was started in 1969 in Fargo by Leland Swanson Sr. A natural health enthusiast, Swanson was heavily influenced by Dr. Linus Paulins,Dr. Irwin Stone, Dr. Roger Williams, Paul Bragg and Adelle Davis, all pioneers in the natural health and nutraceutical movement.
| | |
| --- | --- |
| Leland Swanson circa 1969 when Swanson Health Products opened its doors | Swanson's personal supplementation regimen began with vitamin E. which he ordered from one of the first health supplement outlets in the country, Sturdee Health Products, the nation's oldest mail order vitamin supplier at the time. By 1968 he was a regular user of several vitamins and supplements and began ordering them in bulk to maintain his own supply. Not long after he decided to test the market himself and ordered 5,000 vitamin E capsules from a manufacturer in Ohio, purchased an advertisement in Capper's Weekly Magazine and began selling supplements through the mail. Shortly thereafter, he was putting together small catalogs of his own to mail out to potential customers. |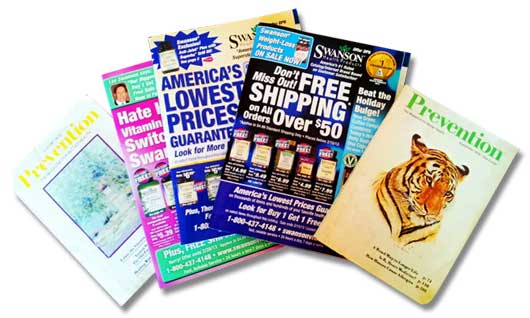 In 1980 SHP was operating with about 10 employees out of a storefront in downtown Fargo. In 1982 the company moved its mail order manufacturing and shipping operations to a 15,000 sq. ft. facility in Fargo's Industrial Park.
But as the company was growing in 1982, tragedy struck. Leland Swanson died. His sons vowed to carry on the tradition that Leland had started and lived for, and headed toward Leland's ultimate goal of "bringing wellness to the world."
As SHP expanded, the company grew out of its warehouse facility and began renting extra space around the city of Fargo to accommodate the bulk of nutritional products being ordered by a society that had undergone a rebirth of health consciousness. In 1996 tragedy struck the company again when Jay Swanson died, leaving the heritage of commitment to a healthy America solely in the hands of Lee Swanson, Jr.
Now operating a company with over 200 employees, Lee announced in a general meeting of the SHP staff that the company would move on with an even greater commitment to offering high-quality products, low prices and exceptional customer service.
In the 1990s, the development of the SHP website, swansonvitamins.com, opened another avenue of service to meet the needs of customers. The website offers not only health and wellness products, but also product descriptions, healthy recipes, reports on promising research and a wide variety of health-related information, all available at the fingertips of SHP customers.
| | |
| --- | --- |
| Lee Swanson, President of Swanson Health Products | Under Lee's direction, SHP has continued a rapid rate of growth. At the turn of the new millennium, SHP moved into a brand new 120,000 sq. ft. facility that allows the company to house its call center, customer care center, marketing, manufacturing, storage and shipping under one roof. The new building is currently undergoing an expansion process and more growth of the facility is planned in the immediate future. To handle the great influx of orders, manufacturing and mailing, SHP now employs over 500 people. |
In May of 2010, Swanson Health Products expanded operations to Harrisburg, Pennsylvania. Swanson Health Products' East Coast Distribution Center (ECDC) will serve as a fulfillment center established to help SHP do what it does best: serve its customers. The location of this facility was chosen to eliminate one to two days of transit time on orders shipped to east coast customers.
Similarly, in April of 2011, Swanson Health Products opened its West Coast Distribution Center (WCDC) in Sparks, Nevada, to eliminate one to two days' of shipping transit time to customers located on the west coast. The ECDC served as a successful model, helping to improve delivery time to east coast customers. The company wanted to provide that same level of customer service to west coast customers and found a perfect location to accomplish that goal in Nevada.
With all sites now completed and operational, the company employs over 500 people