Certified Biological Natural Bioactive Whey Protein
Code:

SWU955

Type

12 oz (340 grams) Pwdr

Description:

• Whey protein produced from cows fed with grass with no hormones
• Supports the body during ageing when glutathione levels drop
• Maintains cell processes and immune functions
Glutathione is the most important antioxidant in our body. It is found in every cell and is absolutely necessary for cellular processes which maintain your energy and immune system, which, in turn, helps for detoxification of your body and maintains your good health. The body produces glutathione from three amino acids: glutamate, cysteine and glycine. Unfortunately, during ageing we lose much of our ability to form this important detoxifier.
The best way to increase glutathione is by nourishing our body with quality proteins and biochemical precursors. In order to produce glutathione, the body needs to get a natural form of proteins which are not structurally modified (undenatured), not polluted (organic) and biologically active (bioactive). Swanson's Certified Biological Natural Bioactive Whey Protein meets all these criteria.
Our Certified Organic Undenatured Bioactive Whey Protein is produced from cows fed with grass, with no hormones, bred in America's Dairyland organic farms. It is processed at low temperatures which allows for the preservation of the structures of amino acids which the body needs for glutathione production. This is the big difference compared to thermally processed products whose proteins are altered.
Other ingredients: Organic sunflower lecithin (used during processing).
Recommended use: As a dietary supplement, mix carefully one teaspoonful (11 grammes) with one teacup of cold water. Drink it once a day. Store it in a cold and dry place and put it in the fridge after opening. For best results, take the Bioactive Whey Protein on an empty stomach at least 30 minutes before meals. Mix with water or milk and drink slowly or simply chew the powder directly. Not to be mixed with sour drinks. Includes a measuring spoon.
Note: Use this product as a dietary supplement only. Do not use it to lose weight.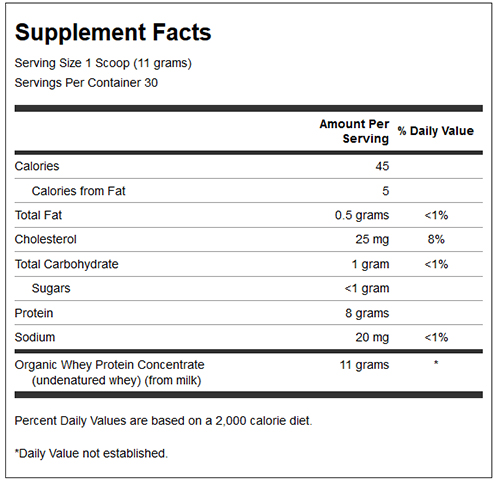 | | |
| --- | --- |
| Size: | 12 oz (340 grams) Pwdr |
LEAVE A COMMENT:
Your email address will not be published. Required fields are marked *