• Anall-natural source of essential fatty acids, beneficial to the heart and mind.
• Features a powerful fish oil concentrate.
• 300 mg of EPA and 200 mg of DHA in one capsule.
To supplement the necessary omega-3 to your diet, take Swanson Super EPA. This all-natural dietary supplement contains EPA (eicosapentaenoic acid) and DHA (docosahexoenoic acid), two omega-3 essential fatty acids, which play an important role both for the maintenance of healthy skin, and for the improvement of the cardiovascular system and body's defenses.
Other ingredients: gelatin, glycerin, purifiedwater.

Suggested use: As a dietary supplement, take one gel capsule a day with water and food.
ATTENTION: Consultyourphysicianbeforeuseifyoutakeblooddilutionmedicines.

Solvents free.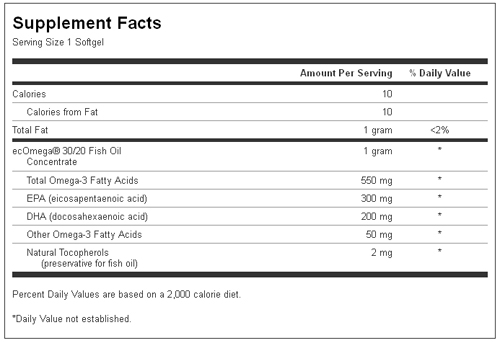 LEAVE A COMMENT:
Your email address will not be published. Required fields are marked *