Joint Care with Glucosamine, MSM & Chondroitin
Code:

SWU083

Description:

• Superior joints health in one capsule.
• Contains glucosamine sulfate and chondroitin sulfate.
• Combines МSМ with other ingredients to improve flexibility and freedom of movements.
Why do you need to take a handful of pills every day, when you can get all you need for you joints in just one completed formula? The ingredients in this special joints product – glucosamine, chondroitin, and MSM – are naturally present in the healthy joints and cartilage. They improve the flexibility and smoothness of movements. The trio also includes important vitamins and minerals for synergistic support.
Other ingredients: gelatin, soybean oil / beeswax blend, glycerin, soybean lecithin, carob extract.
Suggested use: As a dietary supplement, take one gel capsule three times a day with water.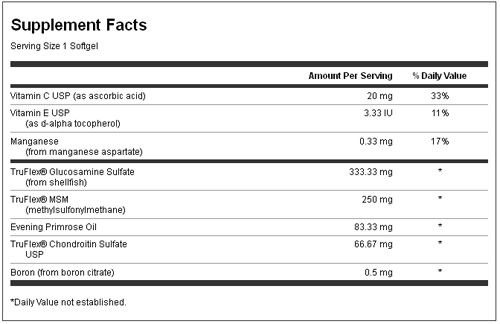 LEAVE A COMMENT:
Your email address will not be published. Required fields are marked *