Omega-7 Oil From Sea Buckthorn Oil
• Swanson EFAs Omega-7 Oil from Sea Buckthorn Oil
• Non-GMO sea buckthorn oil
• Add Omega-7 Oil to your health and beauty program today!
New Swanson EFAs Omega-7 Oil delivers pure, non-GMO sea buckthorn oil providing concentrated palmitoleic acid along with naturally occurring omega-3, -6 and -9 EFAs. Evidence suggests that omega-7 is equally if not more important for healthy exterior aging (e.g., skin and hair) than other more commonly recognized EFAs. Likewise, studies show that sensitive tissues inside the body need palmitoleic acid to maintain healthy structure and function as the years go by. Sea buckthorn oil is one of the best botanical sources of palmitoleic acid known. That is why it is showing up in more and more cosmetics, lotions, cleansers and dietary supplements.
Other ingredients: Gelatin, rice bran oil, vegetable wax, d-alpha tocopheryl acetate.
Suggested Use: As a dietary supplement, take one liquid capsule per day with water.
WARNING: Do not take this product if you are pregnant or nursing.
NOTE: Refrigeration is recommended.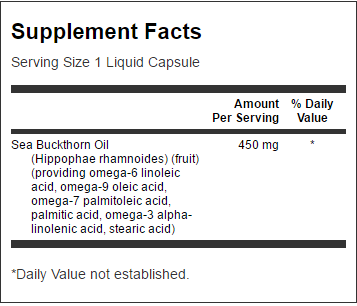 LEAVE A COMMENT:
Your email address will not be published. Required fields are marked *