Description
• Brown algae – natural source of iodine for the thyroid gland.
• Guaranteed pure - without heavy metals.
• The supplement is standartised to include 0,2% proteic iodine.
Welcome to our European Health Store! We guarantee to provide you the best quality products on the lowest prices.
Lee Swanson, President of Swanson Health Products

Support your thyroid gland health with Swanson Bladderwrack. The production of hormones which regulate metabolic processes depends on the thyroid gland and iodine promotes its function. Besides, each organ of the human body needs a daily dose of iodine to function properly and optimally. Our Bladderwrack Leaves capsules contain guaranteed 150 mcg of iodine a piece.
Other ingredients: Microcrystalline cellulose (plant fibre), gelatine, may contain one or both of the following: magnesium stearate, silica.
Directions for Use: As a nutritional supplement, take one capsule daily with water.
WARNING: Consult your physician before use if you are pregnant or breastfeeding, if you are taking prescription drugs or suffer from any disease. Do not exceed recommended daily dose.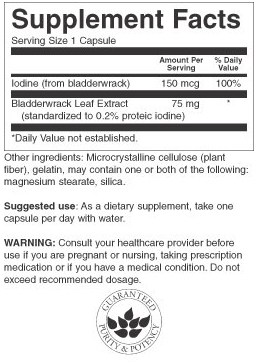 LEAVE A COMMENT:
Your email address will not be published. Required fields are marked *