High-Potency Triple Mushroom Standardized Complex
Code:

SWH168

Description:

• Boost your immune defence naturally
• Standardised to ensure high efficiency
• Contains extremely potent polysaccharide beta-glucans
Enhance your immune system function with the natural power of Asian mushrooms! Highly treasured by Asian herbalists for centuries, maitake, shiitake and reishi mushroom are rich in various nutraceuticals which will enhance the natural defence system of your body when you need additional support. This amazing combination contains 200 mg of each of these three types of mushrooms, standardised to contain optimal levels of polysaccharides and other important nutrients.
Other ingredients: Gelatine, microcrystalline cellulose (plant fibres), stearic acid, may contain one or both of the following: magnesium stearate, silica.
Directions for Use: As a dietary supplement, take one capsule once to twice daily with water.
WARNING: Do not take this product if you are pregnant or breastfeeding. Consult your physician before use if you are currently on any prescription drugs or receiving any medical treatment. Discontinue use if you experience any unusual symptoms.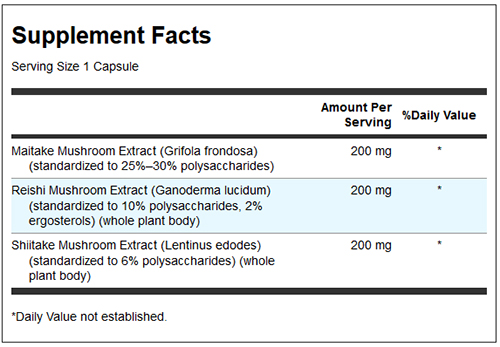 LEAVE A COMMENT:
Your email address will not be published. Required fields are marked *