Code:

SW1427

Description:

• a sugarless alternative supporting protein digestion
• the well-known papaya enzyme helping protein absorption
• Vegetarian capsules with pure papain
Papain is a well-known enzyme which helps for protein absorption and is extracted from papaya. Usually you can find it in the form of chewing tablets in which unwanted calories and sugar are added. Our new Papain Papaya Enzyme is in the form of vegetarian capsules which transport the enzyme directly in your stomach, so that it can immediately have its beneficial effect. These new capsules do not contain sugar, artificial colours or unnecessary additives – just pure papain for protein degradation.
Other ingredients: microcrystalline cellulose (plant fibres), hypromellose (plant capsule), may contain one or both of the following: magnesium stearate, silicon dioxide.
Suggested Use: As a dietary supplement take 1 vegetarian capsule with water before each meal.
WARNING: Do not take this product if you are pregnant or nursing.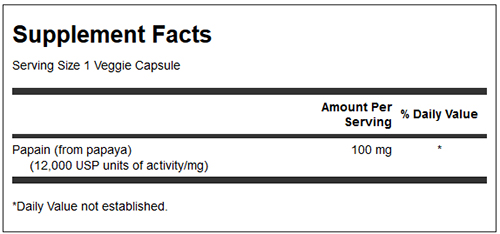 LEAVE A COMMENT:
Your email address will not be published. Required fields are marked *