Code:

SWU502

Description:

• Full-Spectrum N-Zimes features CereCalase, an enzyme complex that supports the release of fiber bound nutrients
• Made with Veggie Caps
• Maximize the nutritive benefits of the foods in your diet
Did you know enzymes are involved with everything from digestion to immune strength? Don't miss out. Introducing N-Zimes from Swanson Ultra and National Enzyme Company (NEC). NEC has been blending quality enzymes with cutting-edge science since 1932, and now they bring their expertise to this advanced Swanson formula. Each capsule contains an enzymatic blend unmatched in quality and efficacy. N-Zimes features CeraCalase, a proprietary enzyme complex from NEC that supports the Other ingredients: Rice bran, hypromellose (vegetable capsule), dextrin/maltodextrin.
Suggested Use: As a dietary supplement, take one veggie capsule with water immediately before each meal.
CereCalase® and n•zimes® are registered trademarks of National Enzyme Co.
release of fiber-bound nutrients.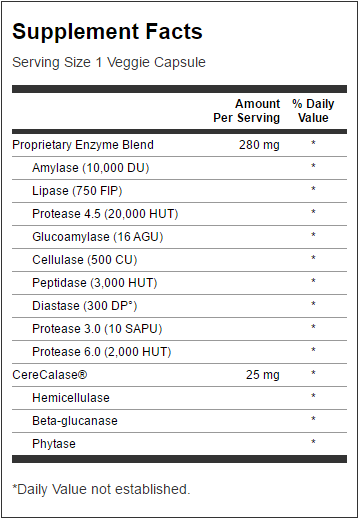 LEAVE A COMMENT:
Your email address will not be published. Required fields are marked *