100% Pure Non-GMO Xylitol Granules
Code:

SW1208

Type

1 lb (454 grams) Granules

Description:

• An ideal sugar substitute with a low glycemic index
• A sweetener that actually benefits your teeth
• Derived from 100% non-GMO birchwood grown in the USA
The new way to sweeten your favorite foods! Unlike other sugar substitutes, Swanson Xylitol is completely natural. Sometimes called "birch sugar" due to its original commercial source, xylitol is technically a "sugar alcohol" that behaves differently than a pure carbohydrate. Our 100% Pure Xylitol Powder is a low-calorie, low-glycemic-index alternative that can replace the sugar in almost any recipe. And don't risk exposure to genetically modified products: buy Swanson Premium Xylitol, which is produced from non-GMO birchwood grown right here in the USA.
Ingredients: Xylitol (from birch and other North American hardwoods) (non-GMO).
Suggested Use: Mix one teaspoon (4 grams) in your favorite food or beverage. May use in cooking or baking as a substitute for sugar.
WARNING: Excessive consumption of xylitol may have a laxative effect. If this occurs, reduce intake.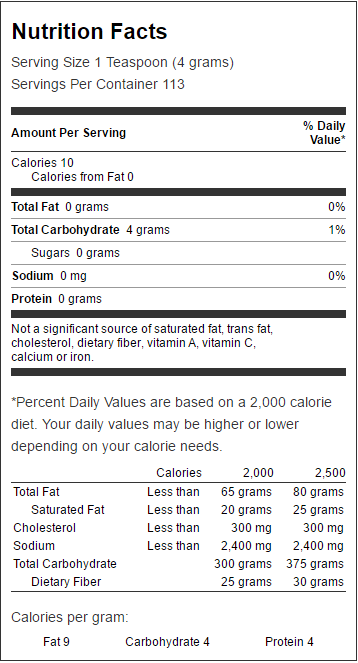 | | |
| --- | --- |
| Size: | 1 lb (454 grams) Granules |
LEAVE A COMMENT:
Your email address will not be published. Required fields are marked *