Code:

SWP017

Description:

• Remarkable herb combination which will rouse the passions of both men and women.
• Contains horny goat weed, standardized to 10% icariin.
• Features a synergic combination of tribulus, Mucuna pruriens, Polypodium vulgare and Maca.
This remarkable herb has been recommended by Chinese herbalists as a natural way for rousing both men and women's passions for centuries. Our special formula combines a guaranteed tribulus, maca, macuna pruriens and polypodium extract which will definitely increase and exalt the warmth in your love life.
Other ingredients: rice flour, gelatin, magnesium stearate.
Suggested use: As a dietary supplement, take two capsules a day with food and water. For faster results you may take three capsules 60 to 90 minutes before activity.
ATTENTION: Not recommended for use with MAO inhibitors. Consult your physician before use if you are being treated for hypertension, cardiac or pulmonary disease or if taking products containing L-DOPA.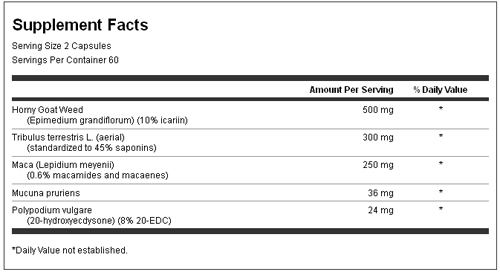 LEAVE A COMMENT:
Your email address will not be published. Required fields are marked *