Code:

SWU053

Description:

• A form of CoQ10 with three times the absorption rate of conventional CoQ10s
• Delivering 15 mg of Q-Gel and 3 IU of vitamin E per softgel
• Patented, hydrosoluble CoQ10

* Shipped From European Union
For a CoQ10 supplement with three times the bioavailability, try Swanson Q-Gel! This unique product is a hydrosoluble form that turns lipid-soluble CoQ10 into a water-soluble nutrient, making it more available to more body tissues. Put Q-Gel to the test and you'll agree it's the best!
Other ingredients: Gelatin, glycerin, purified water, titanium dioxide, annatto powder, Proprietary Bio-Solv® base (polysorbate 80, medium-chain triglycerides, sorbitol, sorbitan monooleate, soy lecithin).
Suggested Use: As a dietary supplement, take one softgel per day with food and water. If you are pregnant or nursing, seek the advice of your physician before using this product.
Q-Gel® Coenzyme Q10 is the most powerful CoQ10 available.
Hydrosoluble™ is a trademark of Tishcon Corp. manufactured by the Bio-Solv® process, U.S. patent #6,056,971 under worldwide agreement with BioSytes, USA Inc.
Q-Gel® and Bio-Solv® are registered trademarks of Tishcon Corp.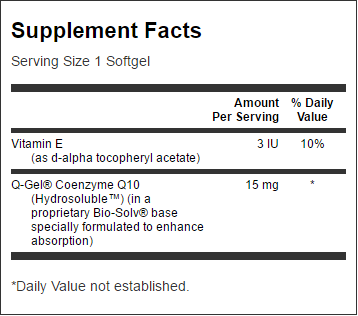 LEAVE A COMMENT:
Your email address will not be published. Required fields are marked *