Vitamin D-3 with Coconut Oil
Code:

SWU830

Description:

• Vitamin D3 + coconut oil is the perfect nutritional pair
• 2,000 IU of D3 with 1 gram of coconut oil per softgel
• Coconut oil helps boost absorption of fat-soluble vitamin D
How do you make vitamin D, which continues to be praised by health professionals and backed by innumerable scientific studies, even better? Combine it with the medium-chain triglyceride coconut oil. Our new Swanson Ultra® Vitamin D-3 with Coconut Oil does just that. Not only does coconut oil provide quick energy able to be quickly broken down and used by the body, it aids in the rapid absorption of fat soluble vitamin D; the best of both worlds.
Other ingredients: Gelatin, glycerin, water, safflower oil.
Suggested Use: As a dietary supplement, take one softgel one to two times per day with water.
WARNING: Consult your healthcare provider before use if you are pregnant or nursing, if you have a medical condition, or if you are taking any prescription medication.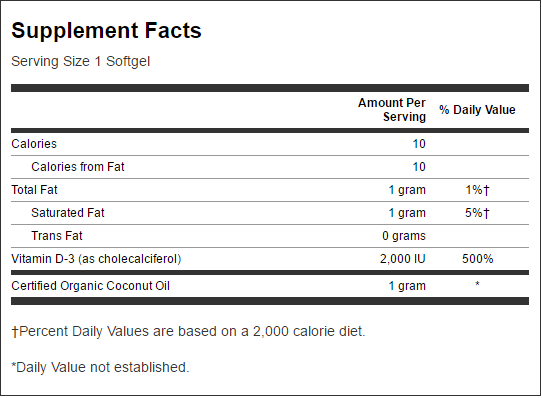 LEAVE A COMMENT:
Your email address will not be published. Required fields are marked *