Code:

SW498

Description:

• Has the ability to regulate the sleep–wake cycle
• Of great importance for the good night's sleep
• May contribute to restoring normal sleep patterns where necessary
Sleepless nights have an enormous impact on health which is now confirmed by increasing scientific evidence. Swanson Melatonin formula delivers a hormone which helps control the sleep–wake cycle. Supplementing this crucial hormone in small amounts may help restore normal sleep patterns, while providing outstanding antioxidant support. Other ingredients: Rice flour, gelatine. Directions for Use: As a dietary supplement, take one capsule with water half an hour before going to bed. WARNING: As melatonin may induce drowsiness, do not drive a motor vehicle or operate heavy machinery after taking the supplement. Do not take this product if you are pregnant or breastfeeding, if you suffer from an autoimmune condition or depressive disorder or are under 16 years of age.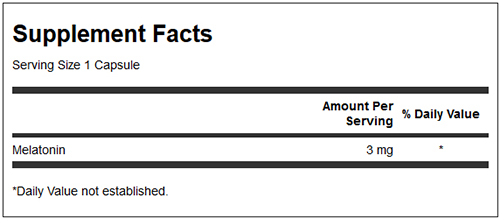 LEAVE A COMMENT:
Your email address will not be published. Required fields are marked *